MC#835610
FMC License No.024404F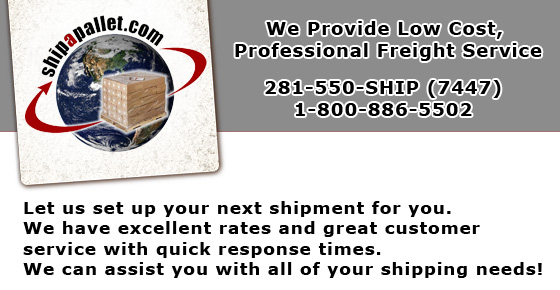 Featured Services
Ship A Pallet provides cost effective freight shipping for customers throughout the U.S. to all points across the country and around the globe. We specialize in LTL motor freight, Air Freight and Ocean Freight. We are a licensed Ocean Transportation Intermediary / Freight Forwarder by the Federal Maritime Commission.

Our shipping volumes have enabled to us to receive significant discounted rates with dozens of freight companies who compete for our business, including top carriers such as UPS, FedEx, DHL, all major LTL truck carriers, and several ocean cargo carriers. This has allowed to us to offer our customers the most competitive shipping rates in the freight industry. We can provide multiple freight options including standard and expedited services. We have over 15 years of logistics experience so we get the job done efficiently each and every time. If you can secure it to a pallet, we can ship it and save you money.

Ship A pallet also offers consolidation, packaging, crating, palletizing and warehousing services for customer's in the Houston metro area. Our experienced staff professionally prepares items for safe and secure transportation. Not in Houston and need help palletizing? No problem, we can help.

In all instances, we handle all document preparation and ensure shipments get picked up and delivered on time. We pride ourselves in giving our customers personal attention and to us no customer is too small. We are licensed, bonded and insured so you can be confident your shipment is being handled by professionals. We provide the best freight options at the lowest possible prices for each customer's individual needs.